If you have any information on this crime and call Crime Stoppers, you could receive a cash reward of up to $1,000 if your information leads to the arrest or indictment of anyone involved. Remember, you can call us about any crime, any time. Do the right thing. Click to submit a tip, or call us. Crime Stoppers does not have caller ID. You'll be assigned a code number and we won't ask your name.
Sponsor
business robbery
August 02, 2022
On July 3, 2022, just after 6:30pm, South Bend Police responded to an armed robbery to a business in the 300 block of n. Eddy Street. Michiana Crime Stoppers is asking if you recognize this person (we know the photos are less than stellar), or you have any information on this case, submit your 100 % ANONYMOUS tips by calling 574-288-STOP or 800-342-STOP. You can even submit tips from your smart phone at www.p3tips.com/203 or by downloading the P3 app.
If your anonymous tip leads to the solving of this case, you could be eligible for a Victory Over Violence reward of $1,000!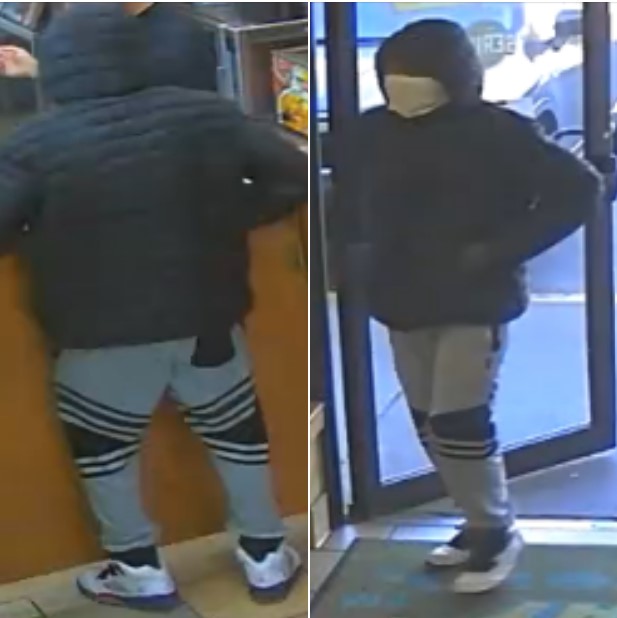 ---
armed robbery
May 11, 2022
On 4/17/2022 at approximately 10 pm, South Bend Police responded to an armed robbery to a business in the 1600 block of S. Michigan Street. The South Bend Police Department's Major Crimes Unit is investigating this case and is asking for help identifying the individual in these photos. If you have a tip, contact Michiana Crime Stoppers with your anonymous information. Because this crime involves a firearm, this is eligible for our Victory Over Violence Initiative, which offers a reward up to $1,000 for a tip leading to an arrest or the solving of this case!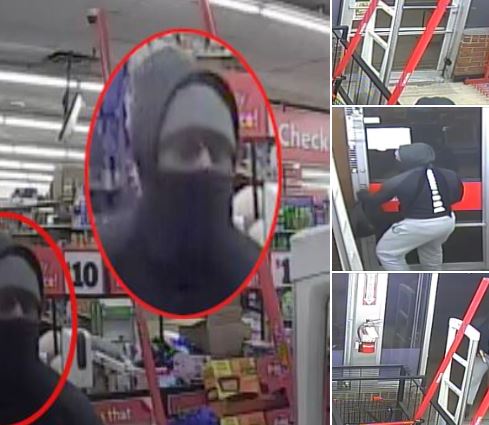 ---
business robbery
April 28, 2022
BUSINESS ROBBERY: Just after midnight on April 21st, 2022, South Bend Police responded to the 400 block of N. Olive for reports of a robbery to a business. South Bend Police Major Crimes Unit is handing the investigation and want to know if you can help identify these suspects.
If you have any information on who these are, or anything about this case, you can submit anonymous tips by calling 574-288-STOP or 800-342-STOP. You can even submit tips online at
www.p3tips.com/203
. If your anonymous tip leads to an arrest or the solving of this case, you could receive a cash reward!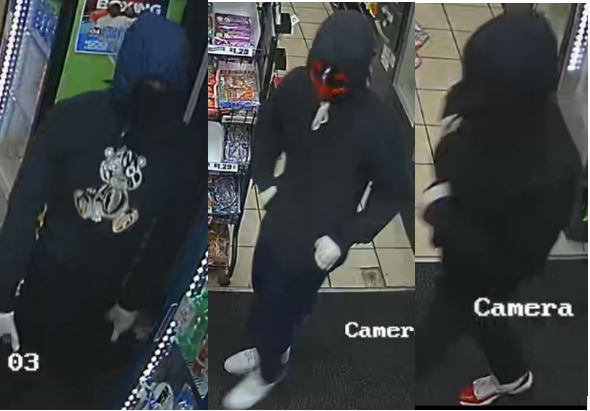 ---
Bradley Hodges homicide
October 12, 2020
The St. Joseph County Metro Homicide Unit is investigating the homicide of 43 year old Bradley Hodges. He was found dead last week with a gunshot wound at the Sunset Village trailer park on Locust Road.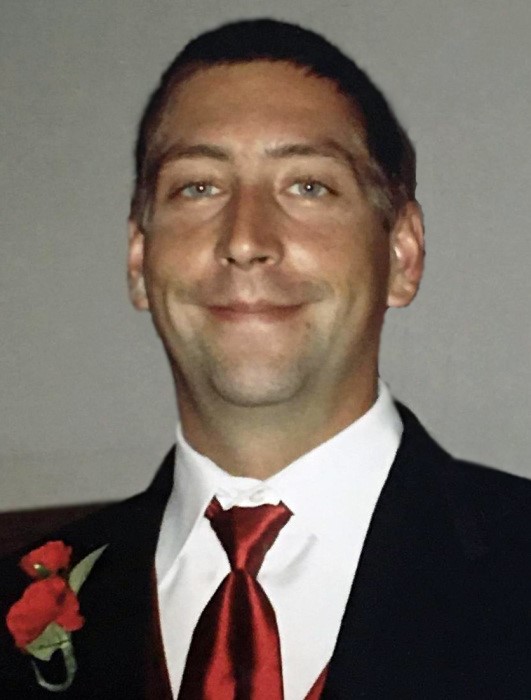 ---
missing person Kimberly Coleman
September 08, 2020
In April of 1992, South Bend resident Kimberly Coleman, 22, was reported missing by her foster parent. Foul play is suspected in her disappearance; she has not been seen or heard from since. Her last known address was in the LaSalle Park area of South Bend. Prior to living in South Bend, Kimberly resided in Fort Wayne and it is believed she still visited Fort Wayne regularly while living in South Bend.
At the time of disappearance, Kimberly was described as 5'6", 132 pounds, with brown eyes and black hair. She would be 50 years old today.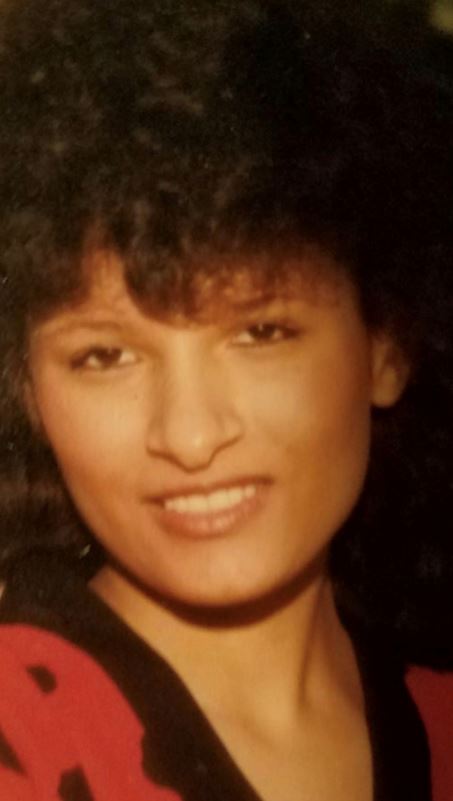 ---
missing person
July 10, 2020
Kenneth VanHulle was last seen on April 17, 2008 at his Scott Street residence in South Bend. He told family he had planned to travel to Alaska, but his family hasn't heard from him in over 12 years.
There was a possible sighting of Kenneth near Anchorage, Alaska in 2009, but authorities have not been able to locate Kenneth.
At the time of his disappearance, he was 5'8", weighed 150 pounds, had brown eyes and brown and gray hair. Kenneth would be 67-years-old.
Any information, please call Michiana Crime Stoppers at 574-288-STOP or 800-342-STOP.
**While we encourage tips, they may not qualify for a reward in this case**
---
Danielle Robinson Homicide
March 23, 2020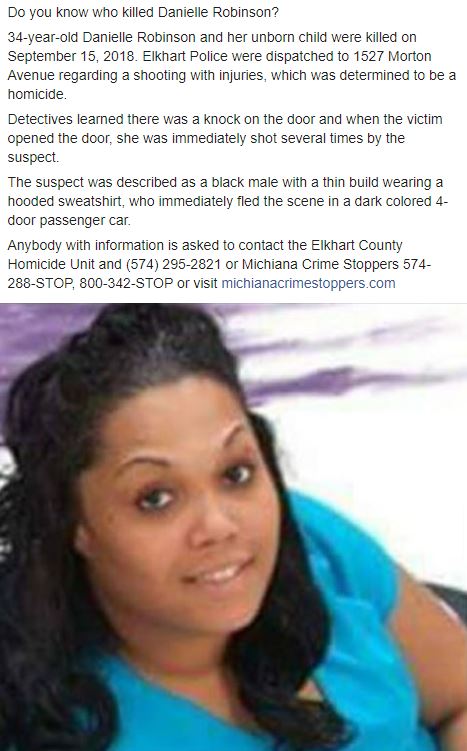 ---
Galacio Sanchez death investigation
June 05, 2019
---
Darrell Edwards Homicide
April 29, 2019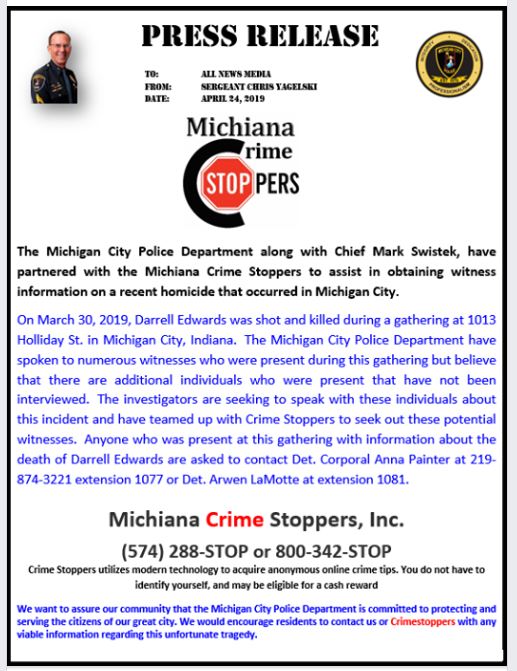 ---
Homicide of Shasta Horston
October 13, 2016
On August 14, 2015 Shasta Horston was found murdered at her home of 1038 Yukon St in South Bend. Shasta was found by family and her infant child was home during this heinous crime. Police are now asking for our help to bring the killer to justice.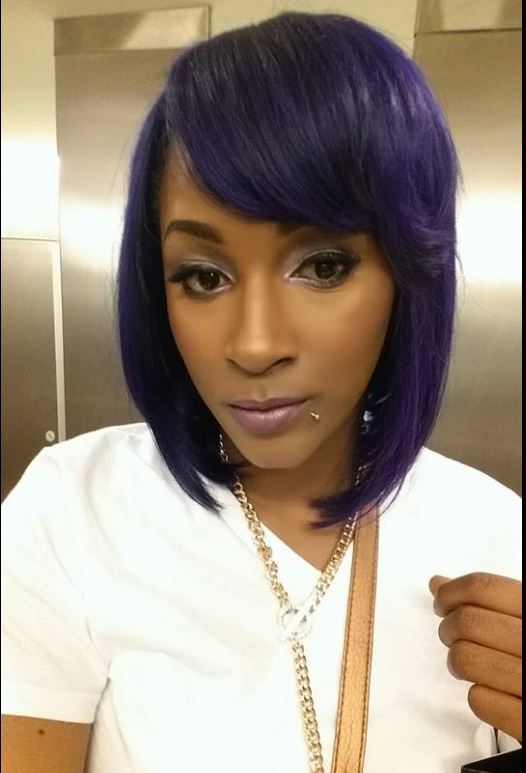 ---
Murder of Domonique Jackson
June 09, 2016
July 20, 2013 at 11pm Domonique Jackson was shot and killed, while in his vehicle, in the 1100 block of North Huey in South Bend. Domonique had a very young son, who is now growing up without his dad. Police are asking for our help to close this case.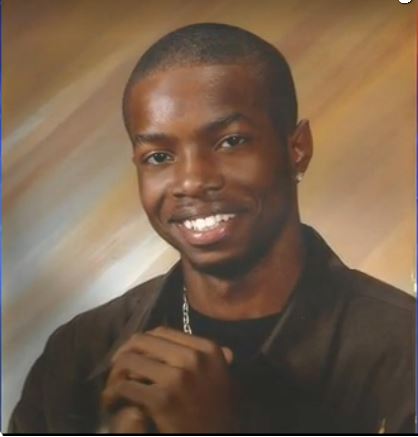 ---
Hit & Run Fatality of John Tolley
May 05, 2016
Around 10am on October 10, 2015 a passerby found John Tolley in the ditch along Ireland Road. John had been struck by a vehicle in the overnight hours and left at the scene. The St. Joseph County FACT Team is still looking for the driver responsible for this accident, and the death of John Tolley.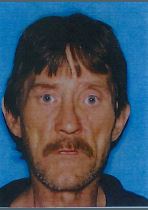 ---
Murder of William Collier
March 03, 2016
Just before midnight on August 29 police responded to the 1200 block of Queen Street in South Bend for a crash, but when they arrived they found the driver, William Collier had been shot and later died at the hospital.

Police are asking for our help to solve this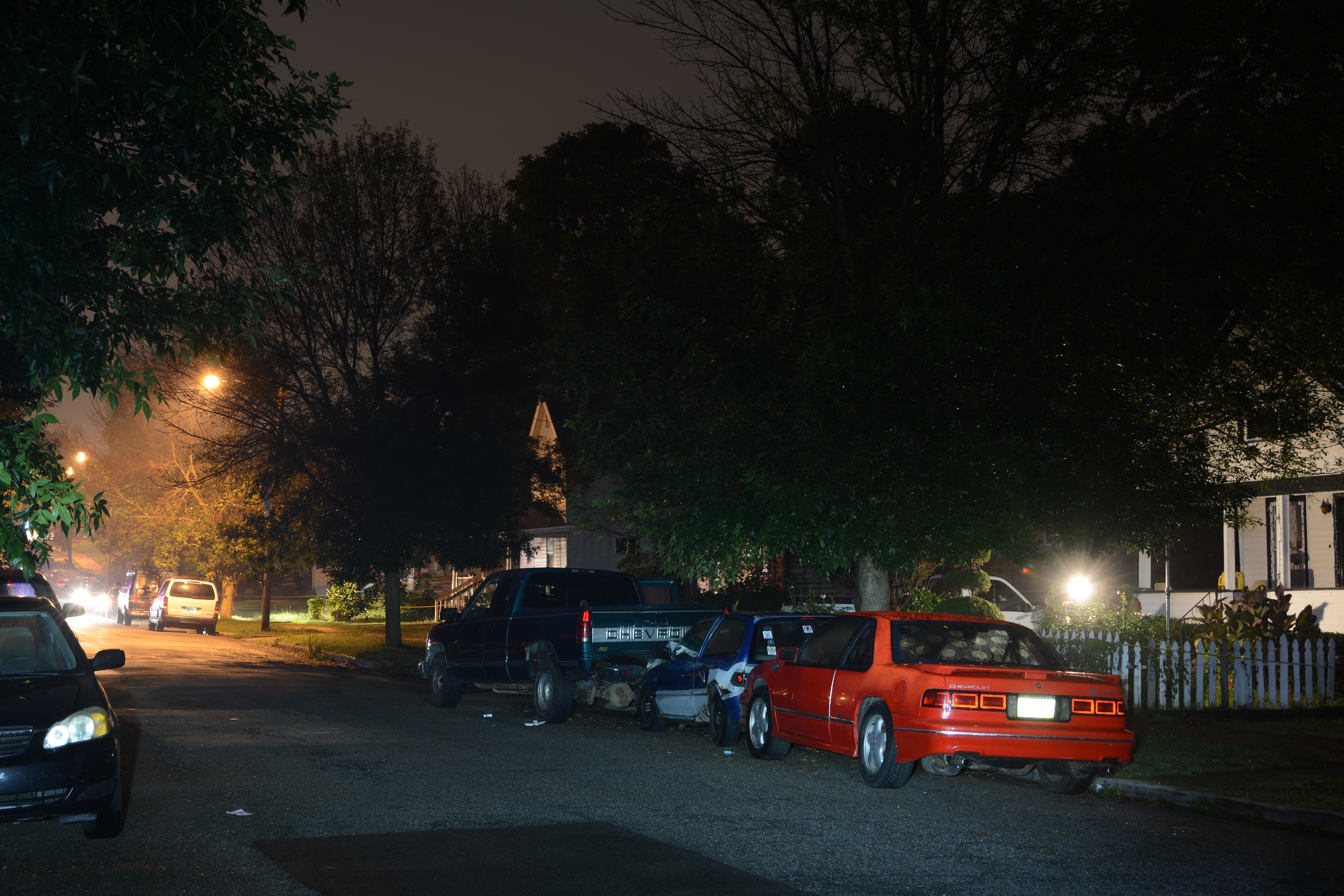 ---
Murder of Edward Kleinwaechter
February 18, 2016
In the early morning hours of March 10, 2014 South Bend Police found Edward Kleinwaechter murdered in the 500 block of W. Marion Street.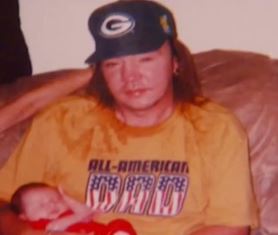 ---
Murder of Ariana Pendleton
November 05, 2015
October 22, 2011 Ariana Pendleton was gunned down in the backyard of 234 Dr. King Dr. in Elkhart. Ariana was only 19 years old and was a good girl with a big smile and happy heart. Ariana`s family, and police, are asking for the community to step up and speak out to help solve this case. Crime Stoppers assures your anonymity and if your tip helps detectives close this case, you could earn a cash reward. Help bring justice for Ariana, and closure for her family.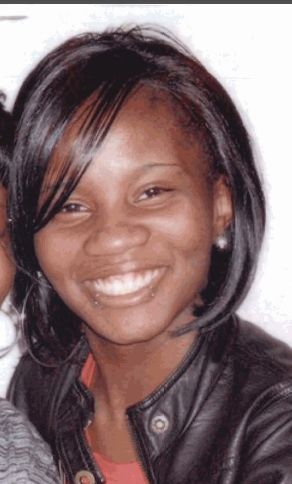 ---
Rape of Natalie Garrett
October 22, 2015
Oct 2, 2013 around 5:30 am, Natalie Garrett was getting ready for work in her apartment in North Lake Apartments in Elkhart. Natalie walked into her bedroom and found an unknown male standing there staring back at her. The suspect is described as an African American male, 20-30 years old, about 6 feet tall and a thin build. Natalie tried to run away, but the suspect grabbed her. The suspect raped and sexually assaulted Natalie. Before he left, the suspect took Natalie`s phone and keys and left out the front door of the apartment.
Two years later, police are asking for the public`s help in solving this brutal crime. If you have any information connected to this case, call or click with a tip for Michiana Crime Stoppers.
---
Tanya Jones Homicide
July 30, 2015
At about 6:00 a.m. on March 2, 2015, it appeared that 41-year old Tanya Jones was awakened when the back door of her home in the 1400 block of Olive Street in South Bend was kicked in. Tanya was found lying on her kitchen floor, dead from multiple gunshot wounds. Police believe this was not a random murder.
The person responsible for Tanya`s murder has left her 13-daughter without a mother, and a family without their daughter, sister, and niece.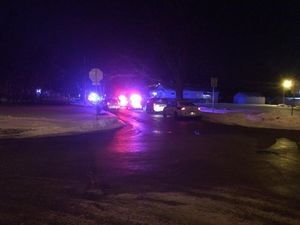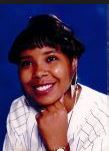 ---
Guiseppi Bailey Homicide
July 23, 2015
The night of May 17, 2015, a 911 call came in to South Bend Police reporting a man down in the 300 block of Manchester Drive. Police and Fire personnel arrived to find 41-year old Guiseppi Bailey unresponsive in the front yard of a home. He had been shot and was pronounced dead at the scene.
Tragically, Guiseppi`s sister, Leah Bailey, was murdered in May of 2000. As she was arriving to the area of 1100 Queen Street in South Bend, she was caught in crossfire that broke out and killed.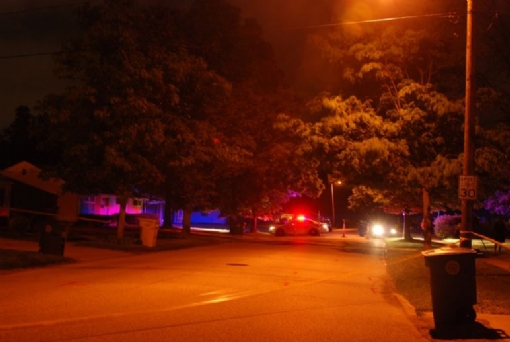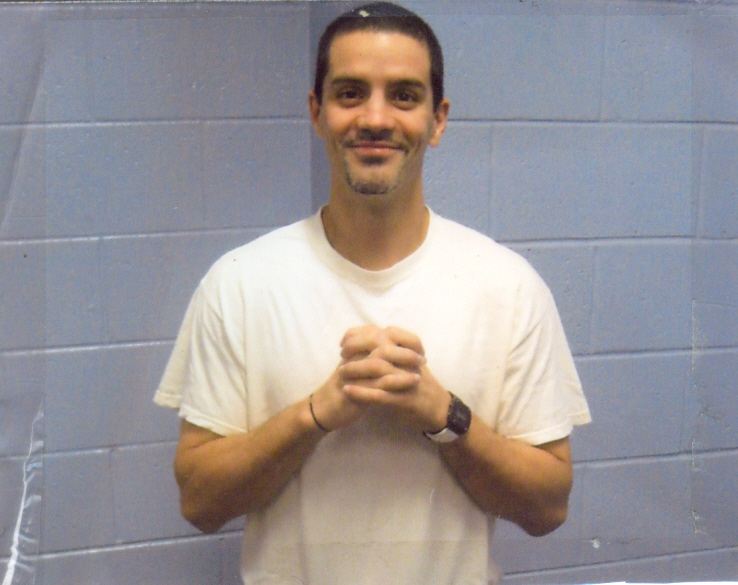 ---
Chris Howard fatal hit & run
July 16, 2015
Early morning on September 16, 2014, 33-year old CHRIS HOWARD was walking along US 30 near SR 23 in Starke County when someone struck and killed him, then left the scene.
Chris was a father to 3 young children, husband, son, friend. Police in Starke County are seeking help from the public to identify the driver responsible.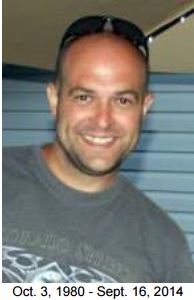 ---
Ronnie Polo Lindsey
May 07, 2015
Early morning on March 30th, 32-year old Ronnie Polo Lindsey was gunned down in front of his home, outside his daughter`s bedroom, in the 900 block of Lavette in Benton Harbor.
There was a red Dodge Magnum and a silver Chrysler 200 in the area that may have been involved.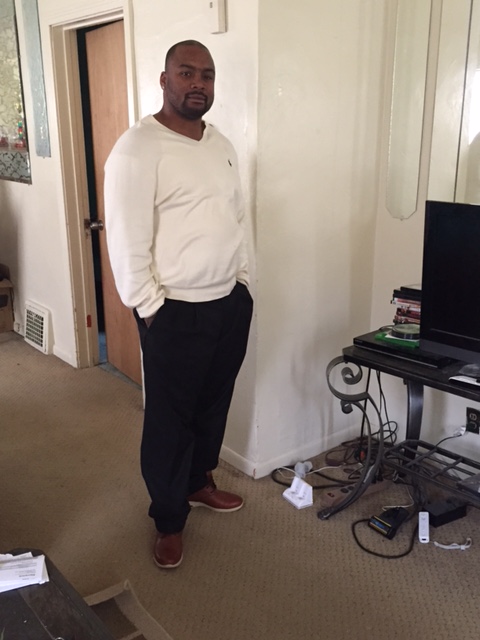 ---
| | | |
| --- | --- | --- |
| Page 1 of 5 | 87 Records | Prev | Next |